---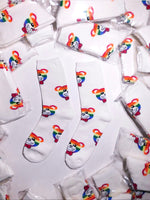 Luxury Style Rainbow Bear Unisex Socks! 
The calf-high socks are luxury style socks. They are a stretch knit cotton and nylon-spandex blend and are not thin socks but have a comfortable & soft weight to them. They are unisex and one size fits all! 
The socks feature the Rainbow Bear throughout the sock in a jacquard style with high quality and luxury stitching to insure long lasting wear. 
They are extremely comfortable and will have your feet feeling great like you are floating on air!